Now may the God of hope fill you with all joy and peace in believing, that you may abound in hope by the power of the Holy Spirit.
Romans 15:13 NKJV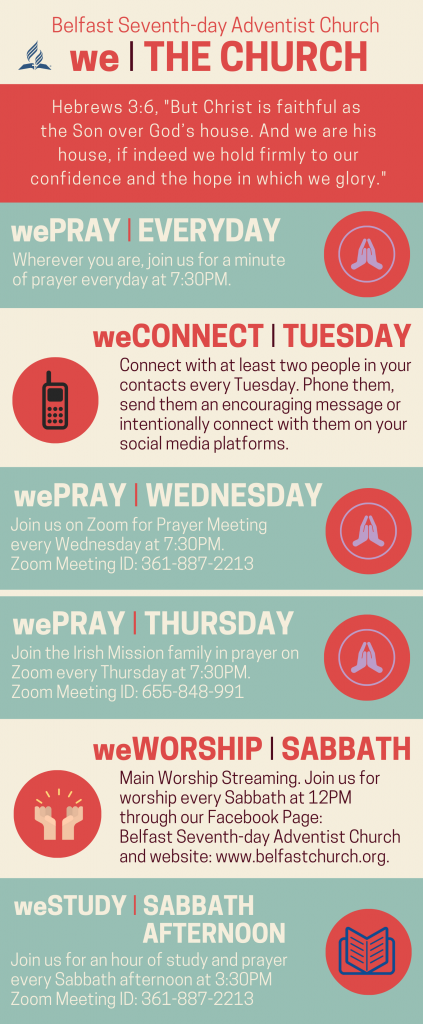 MORE INFORMATION:
Zoom Instructions. The easiest way is to simply click the following link https://zoom.us/j/3618872213. Alternatively you can go to https://zoom.us, click JOIN A MEETING at the top of the page, key in the Zoom Meeting ID: 361-887-2213, and click Join.Please note that the Irish Mission Prayer on Thursday evenings has a different Zoom Meeting ID: 655-848-991. Or click https://zoom.us/j/655848991.
Adult Sabbath School. We encourage everyone to have their own time of study. We will post weekly updated videos and resources from HOPE Sabbath School, 3ABN Sabbath School Panel and other sources on our Facebook Page, Group and Church Website.
Youth Arrangements. There's an IM youth led Instagram Praise and Worship organised on Friday evenings. Please visit Adventist Youth Ireland @adventistyouthirl on Instagram.
Children.We encourage our parents and children to join in via Zoom for the Children's Sabbath School every Sabbath at 10AM. You can click the following link https://zoom.us/j/9450266259 OR go to https://zoom.us, click JOIN A MEETING at the top of the page, key in the Zoom Meeting ID: 945-026-6259, and click Join. Kindly visit Belfast Children's Sabbath School Facebook Group for weekly updated videos and resources.
Tithes and Offerings. We kindly ask you to faithfully set aside your tithes and offerings until such time as the church reopens or until we can implement a simple way of returning and receiving your tithes and offerings. You can also forward a cheque (not cash) on a monthly basis to our local Mission Treasurer with a note on how the sum is to be allocated, e.g. Tithe, SS offering, Budget offering, etc. Mailing address to be provided on request.
Other Meetings. All other group meetings must transition to an online platform. Please inform us if you are organising one so we can provide you with guidance and access to our Zoom account.
Pastoral Care. Pastoral care will continue through video and phone calls, emails and text messages. The pastor and elders will make arrangements for regular contacts with our most vulnerable and those who are not well. However, we encourage the church to keep in touch with each other and to encourage one another.
Access to Resources and Updates. Look for Belfast Seventh-day Adventist Church on the following online platforms – Facebook (Page and Group), YouTube and Instagram. Twitter: Belfast Church, @belfast_church. If you have not provided us with your email address, please email Pastor Ben at rbpontanar@gmail.com so you can be included in our Mailchimp list.
Matthew 18:20, "For where two or three are gathered together in My name, I am there in the midst of them."
04.04.2020 THE UNIQUENESS OF THE BIBLE
"Your word is a lamp to my feet and a light to my path" Psalm 119:105
The Bible is the greatest book ever written. In it, God Himself speaks to man. Not only is it a book of divine instruction, it is a book that comforts in sorrow, guides us when perplexed, gives advice for our problems and rebukes our sins.  It is Word of God – the written Word of God and comes from the Living Word, Christ Jesus, the 'Logos' of God. 
In the beginning was the Word (logos), and the Word was with God, and the Word was God. John 1:1
The study of the Word must lead us to the Living Word, Christ Jesus. All that the Bible offers – instruction, comfort, guidance, exhortation and salvation- is found in Him. He is the One of whom the Law and Prophets testify. See Luke 24:27, John 5:39, 1 Peter 1: 10-12
The Bible is unlike any other religious book. Despite many authors writing from three continents over nearly two thousand years, it maintains a perfect consistency of message. Its words point unerringly to Christ, whose work on the cross was ordained by God—the true author of the Bible—before the world began. Tim Chaffey
https://www.facebook.com/belfastadventistchurch/videos/873034399811484/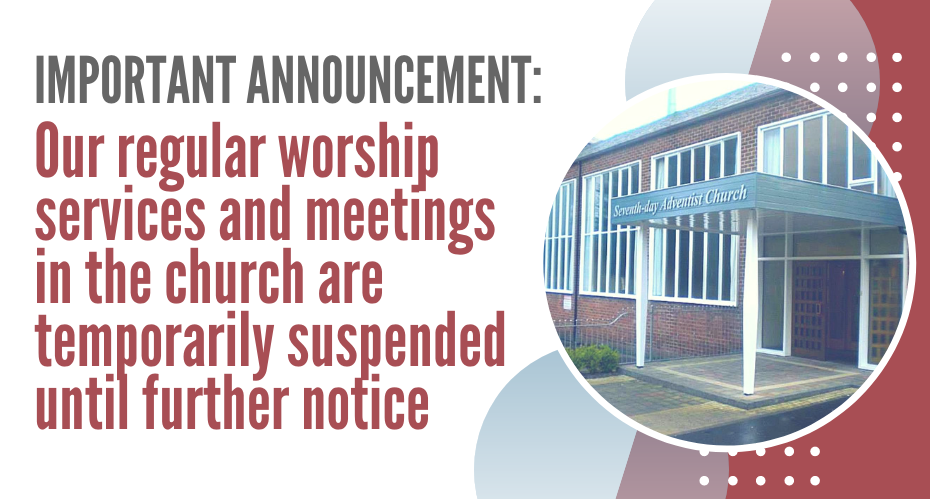 There will no bulletin available while regular worship services and meetings in the church are temporarily suspended. Thank you.
Victory Through Grace


Conquering now and still to conquer, rideth a King in His might; leading the host of all the faithful into the midst of the fight; see them with courage advancing, clad in their brilliant array, shouting the Name of their Leader, hear them exultingly say:
Conquering now and still to conquer, who is this wonderful King? Whence are the armies which He leadeth, while of His glory they sing? He is our Lord and Redeemer, Saviour and Monarch divine; they are the stars that forever, bright in His kingdom shall shine.
Conquering now and still to conquer, Jesus, Thou Ruler of all, thrones and their scepters all shall perish, crowns and their splendour shall fall, yet shall the armies Thou leadest, faithful and true to the last, find in Thy mansions eternal,  rest when their warfare is past.
Not to the strong is the battle, not to the swift is the race, yet to the true and the faithful, victory is promised through grace.
Fanny Crosby
Belfast Church, 74 -84 Lisburn Road, Belfast, BT9 6AF
info@belfastchurch.org             tel: ‭+447502245695