So teach us to number our days, That we may gain a heart of wisdom.
Psalm 90:12 NKJV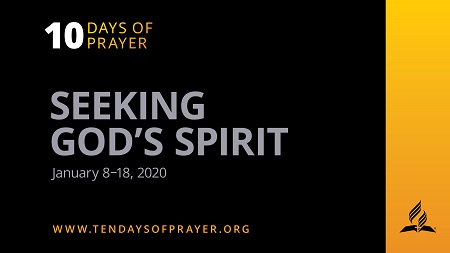 Welcome to Ten Days of Prayer 2020! We are so thankful that we can start this year with prayer. God has worked many miracles in past years as we have sought Him in prayer and fasting. The Holy Spirit has wrought revival, conversions, renewed passion for evangelism, and healed relationships. Truly, prayer is the birthplace of revival!
We believe your life and the lives of those you pray for will be changed as you join fellow church members in praying for the outpouring of the Holy Spirit, whom the Father has promised to give to those who ask Him. tendaysofprayer.org
18.01.2020 FROM MYSTERY TO REVELATION
"Daniel answered and said: 'Blessed be the name of God forever and ever, to whom belong wisdom and might' " Daniel 2:20, ESV
Daniel chapter 2 affirms God's sovereignty. The theme of the chapter is that God will overthrow pagan kingdoms and replace them with His own everlasting kingdom. 
The Immanence of God (the God who is present with us)
The Chaldeans believed that the gods do not dwell with men. 
"It is a difficult thing that the king requests, and there is no other who can tell it to the king except the gods, whose dwelling is not with flesh." 2:15
FIRST READING MEMBERSHIP TRANSFER to Belfast SDA Church for the following: Emil Indricau, Adanma Moses and Michael Moses.
DEFIBRILLTOR TRAINING Open invitation to participate in a training session for this equipment to be held in the Church on at 7 pm on Monday 3 February.
Holy Jesus, every day
keep us in the narrow way;
and when earthly things are past,
bring our ransomed souls at last
where they need no star to guide,
where no clouds Thy glory hide.
W C Dix
Saturday (Sabbath)
Bible Study Hour 10:00 
Main Service 11:15
Belfast Church, 74 -84 Lisburn Road, Belfast, BT9 6AF
info@belfastchurch.org             tel: ‭+447502245695